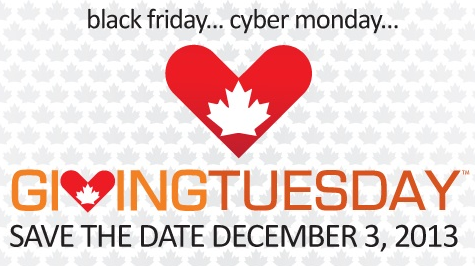 This year, on Tuesday, December 3, 2013, we are proudly joining a call to action that will help make history.
GivingTuesday
Streets Alive Mission is a Registered Partner with GivingTuesday, a new national day dedicated to giving and volunteering. It is also the day of our 7th Annual Radio-athon with 98.1CKVN in Lethbridge.
Giving Tuesday is being called "the opening day of the giving season". This is a day when charities, non-profits, families, businesses, community centers, students, retailers and more will all come together all across the country and rally for their favourite causes. This movement celebrates giving and encourages more, better and smarter giving and volunteering during the giving season.
"Bringing Hope" Radio-athon
We encourage you to be part of GivingTuesday by listening in to our "Bringing Hope" Radio-athon from 6am to 7pm on Tuesday, December 3. This is a major fundraiser for Streets Alive each year, and we hope that Streets Alive is one of your favourite causes!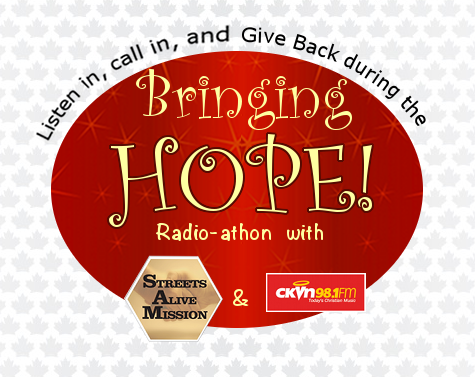 Here's what you can do to help:
Tune in to 98.1fm CKVN (or listen online at ckvnradio.com) on Tuesday to hear from Streets Alive Mission staff and volunteers, and the stories of changed lives that they have to share.
Call in to Streets Alive (403-320-1159) with your donation during the Radio-athon (or anytime, really!).
Come by the CKVN Station office (1277 3RD AVE S, LETHBRIDGE, AB) or the Streets Alive office (323 4TH STREET SOUTH, LETHBRIDGE, AB) to drop off your donations.
Interact with us on Social Media to help us get the word out.

A. You can follow / like us in these locations:

i. Facebook:  http://facebook.com/StreetsAlive
ii. Twitter: http://twitter.com/StreetsAliveLA
iii. YouTube: http://youtube.com/StreetsAlive1

B. Like, Comment on, and Share our Facebook Posts.  Retweet our Tweets. Share our videos and blog posts and website!

Donate online at the Streets Alive Donation Page, or directly at the top of the right sidebar of this blog post. You can Give Back and help with "Bringing Hope" right from the comfort of your own home!
If you'd like to help fund specific items, like our Undie Funding or our Goodie Bags of Love, you can donate specifically toward the purchase of those essential goods.
As always, you can support through your prayers and encouragement. We do not take this kind of support at all lightly. We can't do what we do without prayer, and we can all use some positive words from time to time!
Giving Back, Bringing Hope
Black Friday/Cyber Monday are about deals, GivingTuesday is about giving back. You don't have to be a world leader or a billionaire to give back. GivingTuesday is about ordinary people coming together doing extraordinary things. GivingTuesday is the perfect time for the world to come together and show how powerful humanity can be when we unite to give on one day.
Thank you for your continued support, Lethbridge.  We hope to hear you on the "Bringing Hope" Radio-athon on GivingTuesday!