More than half of the tickets for the 5th Annual Chicken Run Dinner are already SOLD!
The Chicken Run Dinner, in support of Streets Alive Mission, will hatch on Tuesday, August 19, 2014.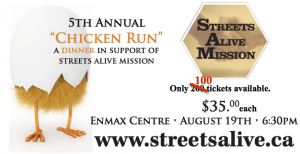 This event is a FUN-draiser for Streets Alive – and it's an EGGcitingly fun evening!
Full chicken dinner with dessert and a great night of cluck-tertainment.
Door Prizes, Reverse Raffle for a BBQ grill, and lots of fun.
Chicken Run Dinner NEW 2014 Location
Enmax Centre Lounge
2510 Scenic Dr S, Lethbridge, AB T1K 1N2 Canada (map)
Tuesday, August 19, 2014 at 6:30pm
Get your Chicken Run tickets YESTERDAY!
Tickets are only $35 each.  Get your tickets early. They are running away FAST.  We started with 200 tickets.  There are already fewer than 100 left!
Tickets are available online, at the Streets Alive Office, or by phoning Meagan at our office: 403-320-1159.
We had so much fun last year. You won't want to miss this year's Chicken Run Dinner.
Can't view this video here? Watch Chicken Run Dinner 2013 Highlights.
Chicken Run Dinner 2014 Event Page
Streets Alive Mission: Bringing Hope to the Hopeless.