For Immediate Release
LETHBRIDGE WELCOMES THE COLDEST NIGHT AGAIN ON FEB. 21
Lethbridge, AB, Feb 10, 2015 – Streets Alive Mission is encouraging Lethbridge residents to bundle up and raise cold, hard cash for The Coldest Night of the Year 2015 (WALK). A family-friendly winter fundraising event for Lethbridge's homeless, hungry and hurting, the WALK takes place on the evening of February 21, 2015.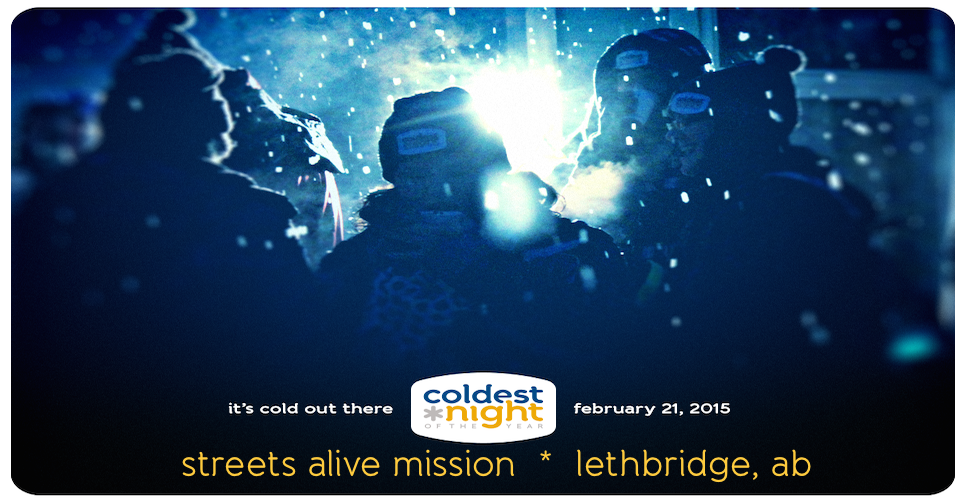 Taking part in the Coldest Night of the Year will help participants understand the experience of surviving on the streets during a cold Canadian winter, while raising funds to aid the work of Streets Alive Mission in providing much-needed support to members of our community. Coldest Night walks will be taking place on the same night in an anticipated 80 cities from coast to coast.
Participants register online at www.coldestnightoftheyear.org, in advance of WALK day. Walkers can register individually, or as part of a team.
The Lethbridge WALK begins and ends at the Exhibition Grandstand, located at Exhibition Park (3401 Parkside Drive South), where walkers will register, turn in the results of their fundraising efforts, and return at the end of the evening for a warm celebration meal. Donning iconic blue-and-white toques, participants will walk a 2km, 5km or 10km route around Henderson Lake, and will warm up with toasty drinks, provided by the Lethbridge Salvation Army, at rest stops along the way.
This is Streets Alive's 4th year taking part in the Coldest Night of the Year, and they're aiming to raise $50,000 for their work with the homeless in Lethbridge. An expected 200 walkers and 25 teams, including staff and friends of Streets Alive Mission, McMan Community Services, BNI Windy City, and Country 95.5 / B 93, among others, are expected to brave the cold winter's night.
Streets Alive Mission has been serving Lethbridge and area for 25 years, and the boost in funds resulting from the Coldest Night of the Year will benefit their clients in a time of the year known historically for low levels of giving.
There's still time to register to walk for The Coldest Night of the Year 2015 (as an individual or with a team). OR Support your favourite walkers and teams by sponsoring them!
You can register and / or donate directly on our CNOY Lethbridge page. All of the Lethbridge teams are listed there – FUN teams like "E-Freeze", "Coolio", "Friends for Friends" and "Mighty Mission Meanders"… and 13 other teams just waiting for your support!!
For further information, contact:
Nick Korver
Location Director
Phone: 403-715-9171
Email: nickkorver7@gmail.com
For National Event information, contact:
Brian Carney, Executive Director
brian@blueseaphilanthropy.org
1-519-603-2250
www.coldestnightoftheyear.org