There's no better time than NOW to register for Coldest Night of the Year in Lethbridge!
Residents, community groups, groups of friends, individuals, and businesses will all be bundling up to raise cold, hard cash for 'The Coldest Night of the Year' taking place this year on February 25. This is a FUN family-friendly winter fundraising event for Lethbridge's hungry, hurting and less-fortunate.
Walkers and teams from local businesses, churches, and other community groups are encouraged to sign up NOW to start gaining support to help reach their fundraising goal. Interested walkers are recommended to register as soon as possible at http://streetsalive.ca/cnoy2017.
This is our 6th year taking part in the Coldest Night of the Year – we've been walking since CNOY started!
Our goals this year!
Raising $40,000 to support our life-recovery programs in Lethbridge.
200 walkers on
40 teams!
Walkers including staff, friends of the Mission, and local businesses will be braving the cold winter's night together on Feb 25th.
The Coldest Night of the Year is much more than just one chilly night.
Coldest Night of the Year is much more than one chilly night, though. Before the walk even begins, walkers will be raising funds and inviting others to walk with them in teams. Each walker and each team will be looking for the support of their friends and family to make the fundraiser a success, not to mention the encouragement needed to face a possibly brutal winter night in Lethbridge.
What if walking in the cold isn't your style?
If walking in the cold isn't quite your style, keep an eye on your social media channels to support those who are walking in your community.
There are also Sponsorship Opportunities available, from Lead Sponsor to Distance Sponsors, for local businesses and media that wish to support the event and reach a wider audience while aligning with a charity dedicated to life change.
Cold Walks all across Canada
Lethbridge isn't alone in this endeavor. Thousands of participants will be taking part in the walk on February 25th, in an anticipated 100 cities across Canada. By walking together in the chill of the night, participants will better understand the experience of being on the streets during a cold Canadian winter, while raising funds to aid the work of Streets Alive in providing much-needed support to members of the community.
Lethbridge Coldest Night of the Year
The Lethbridge walk begins and ends at Exhibition Park, where walkers will register, turn in the results of their fundraising efforts, and return at the end of the evening for a warm celebration meal. Donning iconic yellow and blue striped toques, participants will walk a 2, 5 or 10 kilometre route, and will warm up with toasty drinks at rest stops along the way.
The sooner you register for Coldest Night of the Year the better!
Marie McLennan, of Streets Alive Mission, noted:
"The sooner you register for the walk the easier it is to reach your fundraising goal.

Lethbridge has been so supportive of this event, I think, because they are supporting the brave souls who are willing to walk on a cold night.

Please, sign up today to walk with us.

Invite your circle of friends and family to donate to support you while you walk in the cold for a good cause, and even to walk with you! Those who support you will also be helping bring hope to the hopeless in Lethbridge."
It might not really be THE coldest night of the year!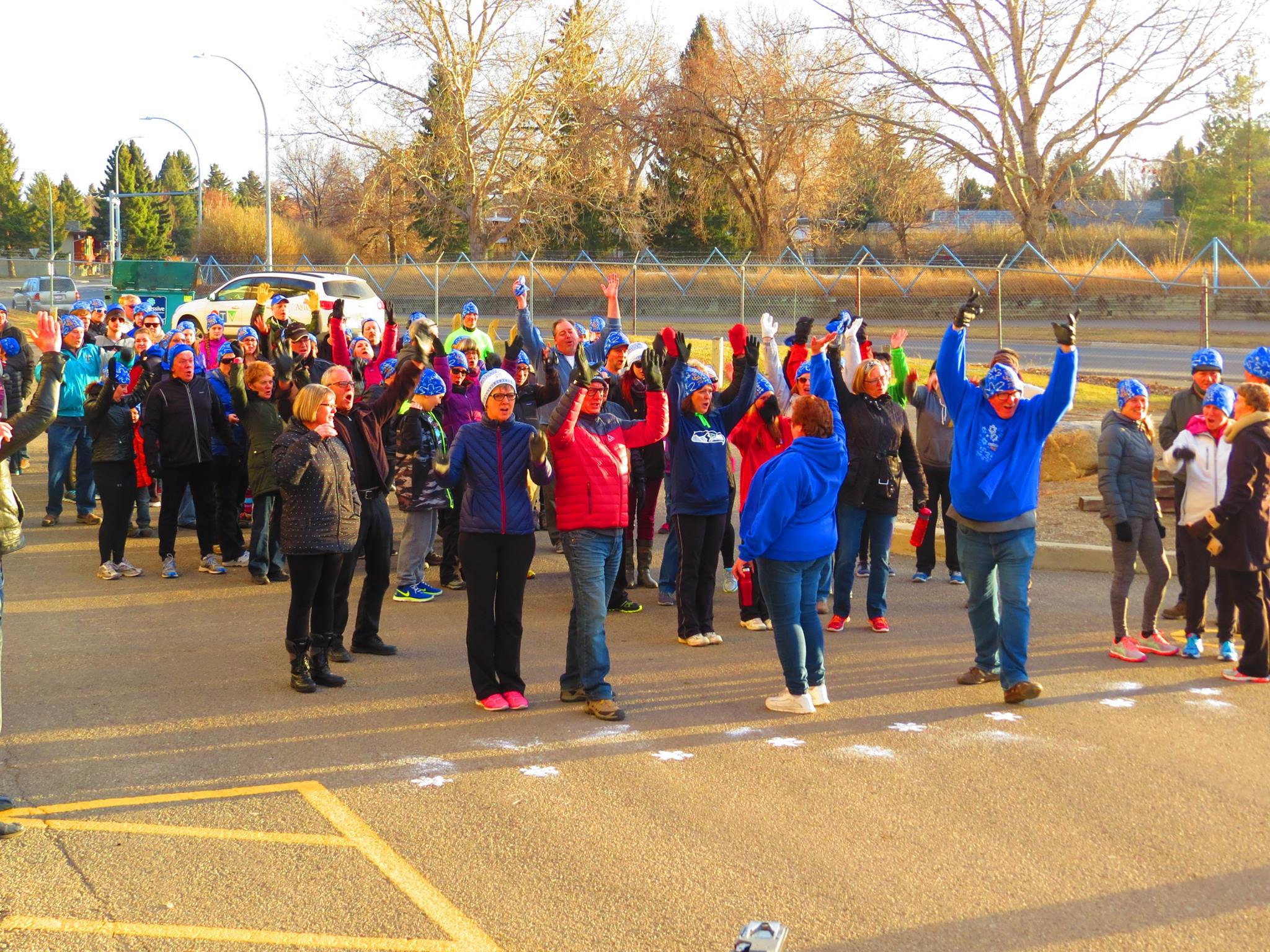 In the past, Lethbridge has often been one of the warmest locations in Canada for the actual date of Coldest Night walk. So, it might not even be THAT cold. In fact, 2016 was a gorgeous evening for a walk – no snow, only a hint of a breeze, and a breathtaking sunset over Henderson lake!
Of course, we've also seen at least one Walk night with decent winds and a wind chill of -13ºC… so, we won't really know for about another month what we can expect the weather to be like on Feb 25th.
But a little cold on our part can be a BIG help to many who live in the cold on a regular basis. Come and Walk with us! It's COLD out there!
The Real Work for the Coldest Night of the Year Walk starts now!
The real work starts now, before the Walk. Get registered today, invite your friends and family and coworkers to walk with you or to support your fundraising goals, and get ready to WALK!