Julie has been saying for a while now that we really need a BAND for worship.
You see, at Streets Alive Mission, we have worship services on Sundays at 11am. That is our "Inner Works" ministry.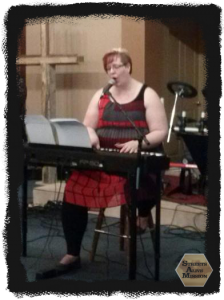 Usually, we just have Meagan on keyboards and vocals for worship leading. We've gotten creative and have also enjoyed some video worship (DVDs designed for leading worship) as we grow.
But video worship just isn't the same as singing with live instruments and singers.
So, for months now, Julie has been saying that we really need a band for worship. And she's been talking to God about it.
About 4 weeks ago, the pieces started falling into place for the Inner Works worship team.
Dillon returned from a time away on Missions, and he plays the bass guitar. He offered to play for worship.
Preston, who works at our Parkside Home plays the guitar. He said he would play, too. But they really needed drums.
As it turns out, another guy connected to the Streets Alive family, named Israel, plays drums! He can really play, and he was willing to play on Sunday mornings.
Then, there's Jayme – she plays the guitar and sings. She comes along, and brings her sister, Kyra, who also sings.
Our intern, Stefan, has also added his vocals to the mix a couple of times now.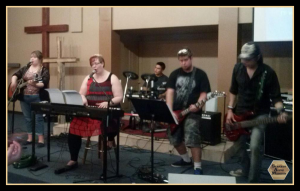 So, Meagan continues to lead with vocals and keyboards.
But now there's a whole worship band, which also includes back-up vocals, guitar, rhythm guitar, bass, and drums. Jayme has even lead worship when Meagan has been away.
Our new worship team has all come together by God's direction. We didn't go out recruiting for worship team members. We didn't advertise or say too much about it, even.  These talented individuals just stepped up to help where they could.
Interestingly, most of our worship team have grown up inside the work of Streets Alive Mission. They've seen first hand what we do, have benefited from our services, and/or have been touched through our work somehow.
And God brings it all together, again, like He has so many times before! This time, it's our worship team, and we are so grateful.
When something happens like this, there is no doubt for us that God's hand is in it.
When it all comes together, our hope is renewed, and we can then pass that hope along to those who have none.
Ask. Seek. Knock. Then go, and Bring Hope!
Streets Alive Mission: Bringing Hope to the Hopeless!