Donate to Streets Alive Mission: Receive a Charitable Tax Receipt
The busiest season for charitable giving is upon us. It's this time of year that Streets Alive Mission receives a significant percentage of our support.
Every one of our valuable programs saw huge increases in demand during 2016. We have one last big end-of-year financial goal is to ensure that the essential life-recovery programs at the Mission can grow to meet the increasing demand in 2017.


You can easily donate securely through our Streets Alive Mission 2016 Year End Giving options here on our website, or through our CanadaHelps donation portal – Streets Alive Mission at CanadaHelps.
Donations over $20 made through either source will be eligible for charitable tax receipts! Please mark your calendar and schedule time to make your year-end donations by 11:59pm on December 31, 2016 to receive a 2016 receipt!
Streets Alive Mission accomplished so much with your help in 2016 and we can do even more in 2017!
About Tax Deductible Donations
As the end of the year closes in, time is running out on tax deductible donations.
About 25% of Canadians take advantage of the sizeable benefits Canadian Federal and Provincials governments offer to Canadians who give to registered Canadians charities. These tax incentives are significant, amounting to as much as 53% of your charitable donation.
For many Canadians, it's by leveraging these tax benefits that they can give more generously to charities. It makes them feel good and with their larger gift, it enables the charities they support to do more.
Now, that's a good thing.
At Streets Alive Mission, the essentials needed for caring for the less fortunate and bringing hope to the hopeless continue to increase. Please consider keeping us in mind as you make your end-of-year donation.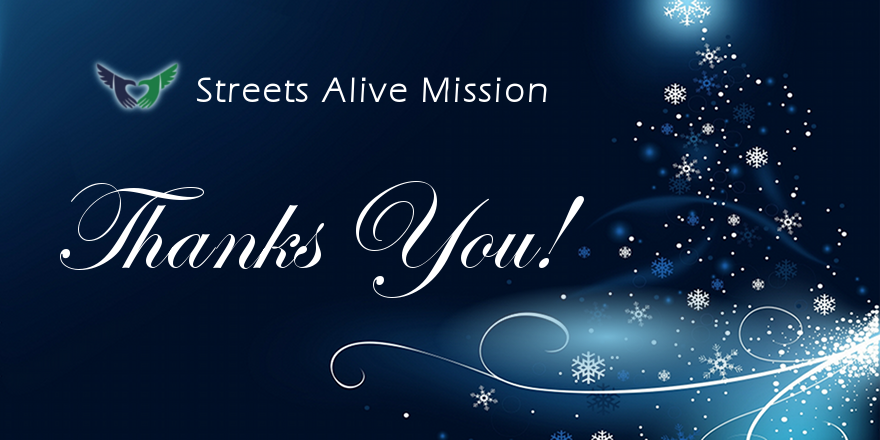 Disclaimer:  We include the above information for directional guidance only.  The information here does not account for all possible tax situations. Feel free to visit the Canada Revenue Agency website for more information. http://www.cra-arc.gc.ca/chrts-gvng/dnrs/menueng.html