Update about the evening feeding program at Streets Alive Mission / Lethbridge Soup Kitchen
Effective last Friday evening, March 27, we have discontinued the evening meal service at the Lethbridge Soup Kitchen. We have moved to a 'bagged-meal' arrangement for our clients, seven days a week. There are a number of reasons for doing so, mostly to do with food handling, physical distancing of clients, volunteers, and staff, and the recommendation from the government to reduce or eliminate buffet-style meals.
How You Can Help
Some groups have asked how they can help us during this time, and there are several ways:
Pray for safety for us: our staff, volunteers, and clients;
Donate supplies to make bagged meals, such as plastic zipper-type bags for sandwiches, sandwich meat, margarine, and loaves of sliced bread;
Put together 85-100 small bags of food for distribution

Bags might include:

one or two individually wrapped sandwiches,
a drink/juice box,
a fruit or vegetable,
maybe a pudding + spoon, or other dessert;

Donate canned food and soup for use through our Emergency Food Pantry;
Make a cash donation to Streets Alive Mission – our food costs are going up during this time of crisis, and with cash donations we can purchase the exact items that we require;
Volunteer to help put these sandwiches and bags together at the Mission (contact Cam, direct phone # 403-942-5648; email: cam@streetsalive.ca, for details).
NOTE: We do accept donations of baked goods. Cookies and muffins are the easiest to distribute in the bag meals.
If you have questions about the meals or the baking please contact Cam and he'll get you pointed in the right direction.
Sample Bagged Meals
Example of items in a bagged meal – drink box, small dessert, sandwich, veggie sticks, fruit snack
Example of items in a bagged meal – water bottle, chips, granola bar, sandwich, veggie sticks
Example of items in a bagged meal – drink box, pudding cup with spoon, granola bar, sandwich, small fruit
Small bagged meals are ideal for our clients' needs. A bagged meal might include: a sandwich, veggie sticks, a granola bar or fruit snack, a small dessert, and a drink box.
Donated Meal Items
If you would like to donate items for the bagged meals, those items can be brought to the Mission office, located at 323 4th St. S., in downtown Lethbridge. You can come to the back door drop off zone, ring the buzzer there, and you'll be greeted by staff or volunteers. Drop Off hours are Monday-Friday, 9am-4pm. You can also phone the office directly if you need alternate drop off times. 403-320-1159.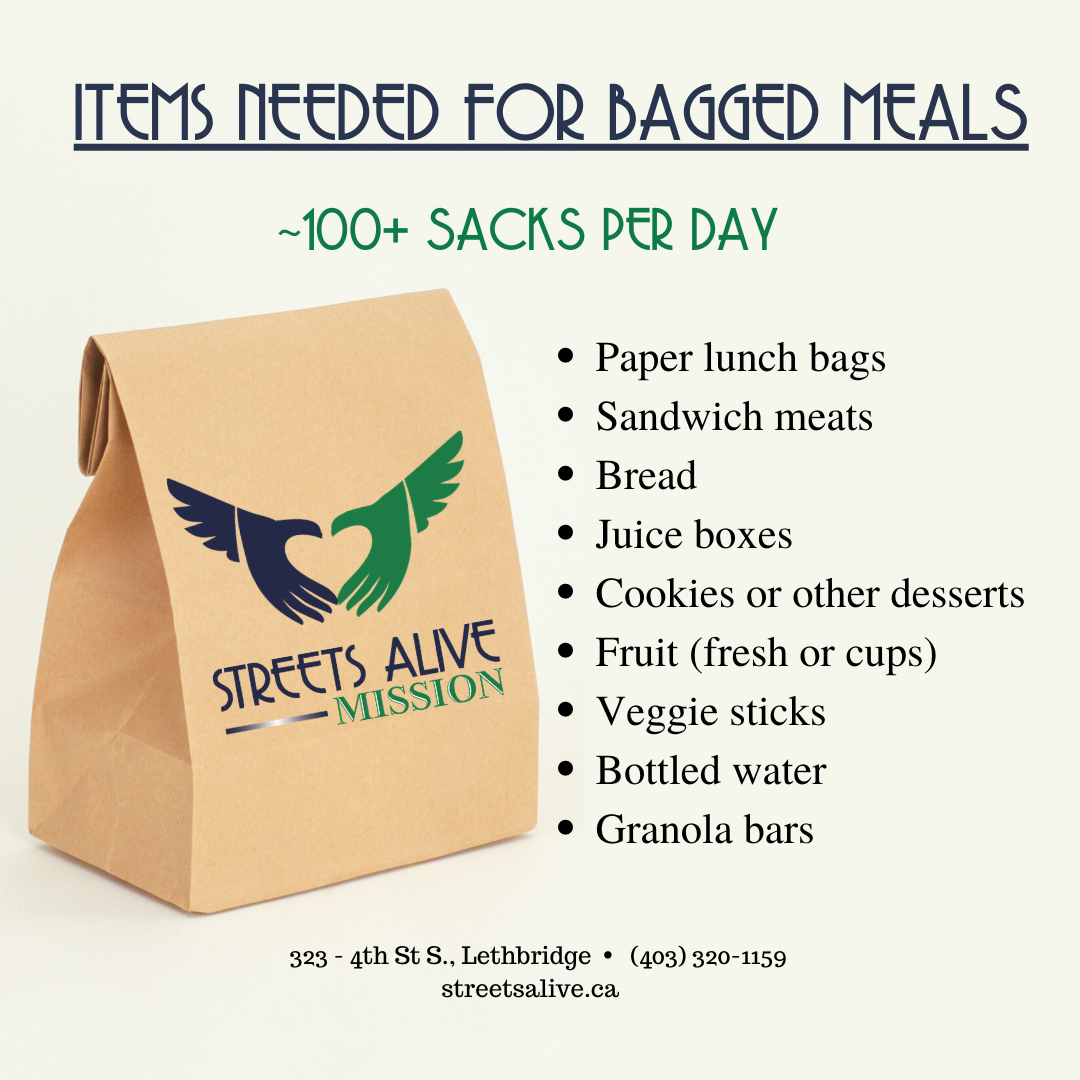 Items for Bagged Meals Needed:
👜 Paper lunch bags
– Sandwich meats
🍞 Bread (sliced)
– Juice boxes
🍪 Cookies or other desserts
🚰 Bottled water
🍫 Granola bars
Meal Delivery to clients
The bagged meals will be handed out in the parking lot at Alpha House (the shelter), Monday – Saturday, at 6:30pm. Sunday the bagged meals will be delivered at the back door of the Mission for lunch at 12 noon.
Thank you for your continued support as we help the most vulnerable in our community!!
Updated October 19, 2020