We invite you to walk with us in Lethbridge!
The Coldest Night of the Year is a family-friendly walk that takes place in hundreds of locations in Canada, raising money for charities serving hungry, homeless, and hurting people in those communities, including Lethbridge. We will all be walking on Saturday, February 22, 2020!
Walk with us. It's cold out there!
Together, we're collecting donations that fund critical services at Streets Alive Mission, a charity in Lethbridge which serves and supports vulnerable families and individuals in our CNOY community.
We walk through the cold and dark on February 22, 2020, to declare our concern for people who have no home, and take shelter in nooks and crannies.
We walk for those whose days are a battle to house and feed their families, and whose nights are filled with fear and frustration.
We walk for those driven from home by violence and abuse. And we walk for people overwhelmed by isolation, guilt and despair.
We walk humbly, realizing that anyone can lose their footing and then lose everything else.
Each step we take brings someone closer to safety, health and home, as together, we raise funds for organizations whose commitment and work transforms peoples' lives.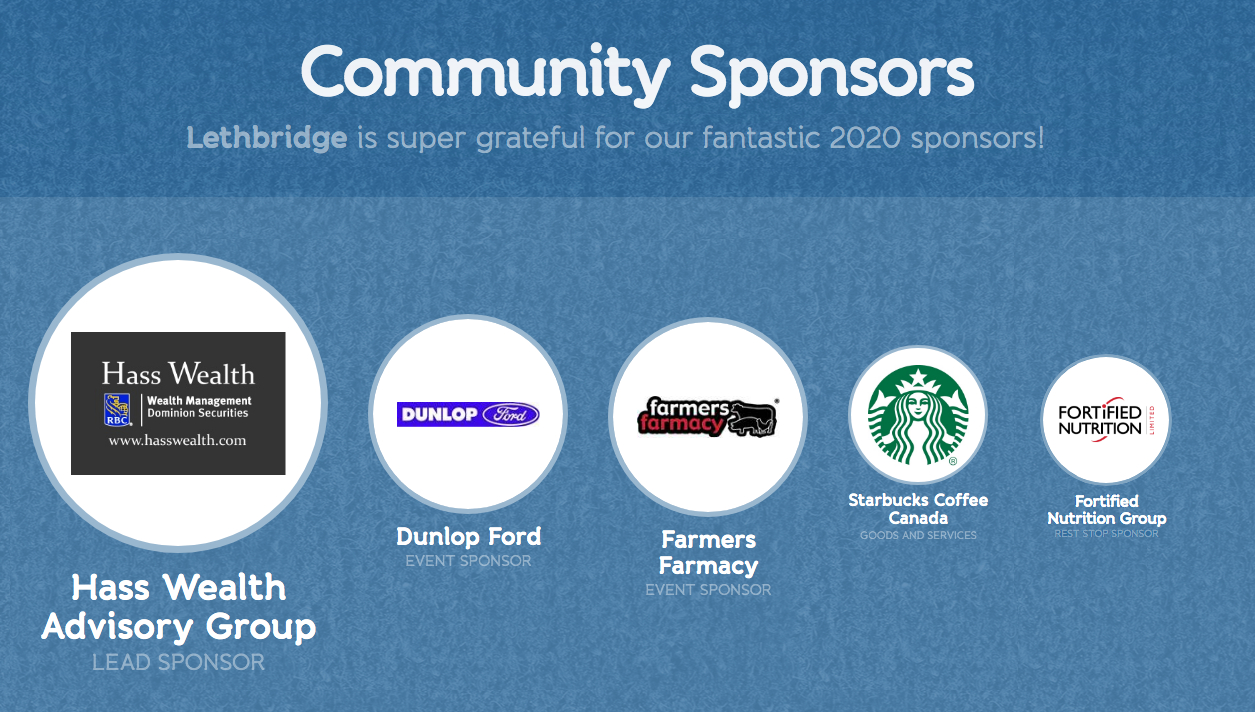 Coldest Night of the Year Lethbridge 2020 would not be possible without our fabulous community sponsors!
HUGE Thank Yous go out to:
Hass Wealth of RBC Dominion Securities Inc. (Hass Wealth Advisory Group) – Lead Sponsor;
Fortified Nutrition Group – Rest Stop Sponsor;
Farmers Farmacy and Dunlop Ford Sales Ltd. – Event Sponsors;
Starbucks – Goods and Services Sponsor.
Please support these businesses and vendors who support Coldest Night of the Year and Streets Alive Mission!
Venue
Evangelical Free Church Lethbridge
4717 24 Ave S
Lethbridge, Alberta T1K 7C1 Canada + Google Map