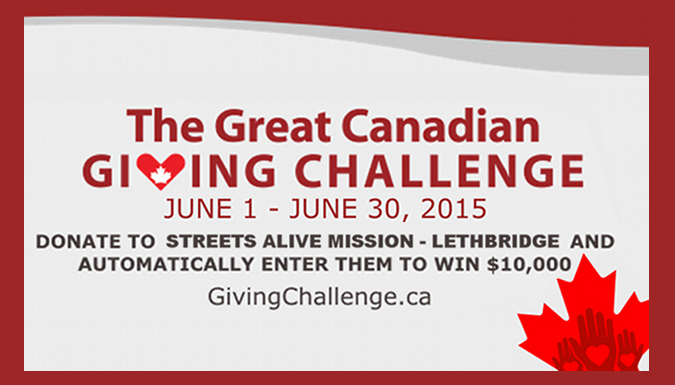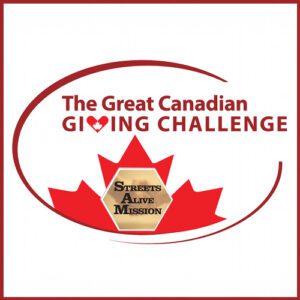 The Great Canadian Giving Challenge is here!
For the entire month of June, every $1 you donate to Streets Alive Mission through www.canadahelps.org or www.givingchallenge.ca qualifies us to win $10,000!
Help Streets Alive Mission to win $10,000!
With a $10,000 donation, we could do MANY amazing things.  With $10,000 we would be able to:
Feed 20 people every day for 6 months
Stock our Emergency Food Bank for 2 years
Clothe 500 people in winter gear
Run Youth Camp for 2 years
Purchase supplies for 3 months of sandwiches
[Best_Wordpress_Gallery id="1″ gal_title="GivingChallengeCA 2015″]
Can you imagine what else we might be able to do with a $10,000 donation?!
The best part is that you don't have to donate the $10,000. Every $1 donated counts as entry for Streets Alive (minimum $3 donation required).  So EVERY DONATION you make increases our chances of winning!
It's easy! Click this button! Donate $10, $27, $63, $114… whatever you feel led to give.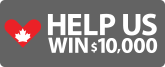 This is one of the great ways we can multiply the dollars generously donated by YOU, our amazing supporters.
Don't forget to share this with your friends and family, too!  Tweet, Facebook, word of mouth – TELL EVERYONE! 🙂
Full contest details can be found on the Great Canadian Giving Challenge website.
Thank you for your support – and for your help to win a GREAT prize!
Streets Alive Mission – Bringing Hope!