Walking through Galt Gardens, minding your own business, you see someone asleep on a bench, likely a homeless person.
What is your reaction?
Are you annoyed?
Do you pretend the person isn't there?
CNN anchorman and 60 Minutes contributor Anderson Cooper says that that was his reaction to a homeless man who panhandles and camps outside his New York home.
It WAS his response to this man, until Cooper was on assignment with 60 Minutes in Nashville for a story on that city's chronically homeless population.  Here's what he had to say after his time in Tennessee:
If you are unable to view this video, visit "How I See Homeless People Now" at CBS News directly.
Cooper says, "…after the story, I was like, 'This is ridiculous. This is my issue. Me pretending not to see this person is insane and offensive.'"

After the assignment, Cooper decided to approach the homeless man, ask his name, and engage him in conversation. Now, he regularly greets the man and talks with him.

"Anytime you stop and talk to somebody and you learn about them, you start to walk in their shoes a little bit and you see things through a different lens," said Cooper.
Anderson Cooper: How I see homeless people now
That same transformation effect is one we see at Streets Alive Mission all the time.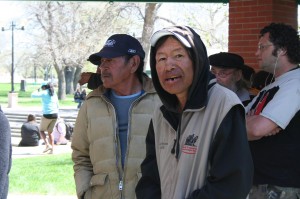 The impoverished people we are helping are touched, reminded that they haven't been forgotten, hope returns, and they are changed, for the better, because of that.
The Streets Alive volunteer helpers and donors are also touched, reminded that they can help, hope is shared, and they, too, are positively changed because of that.
Changing lives (not just of the homeless, but of everyone involved), one person at a time. That's what Streets Alive does.
Streets Alive: Bringing Hope to the Hopeless in Lethbridge.
Thank You Lethbridge!