In another interesting social experiment, a man falls on the sidewalk to see how the people around react to him.
Their reactions depended on his appearance.
If you are unable to view this video here, visit The Importance of Appearances on YouTube.
Same fall, but not the same reactions.  All based on the appearance of the man falling down.
The man who is meant to appear homeless, or at least undesirable, is ignored when he falls down.  For more than 5 minutes, nobody stops to help him.
The well-dressed, professional looking man falls, and within seconds there are people rushing to his aid.
Do these reactions surprise you?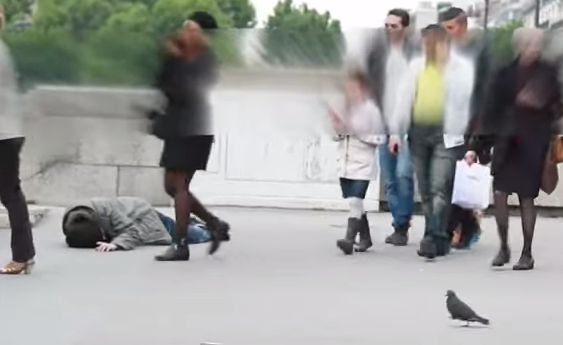 The fact that everybody ignores the man who looks less professional doesn't mean that it's the right thing to do.
What if it was you?
What if nobody stopped to help you in your time of need?
It is by simple and heroic actions that we begin to appreciate the true meaning of "humanity".
"Your job is not to judge. Your job is not to figure out if someone deserves something. Your job is to lift the fallen, to restore the broken, and to heal the hurting."  ~Joel Osteen 
That's our job at Streets Alive Mission – to lift, restore, help, heal, and bring hope. Regardless of appearances, there are people who need assistance, people who need help getting up, people who need hope.
Streets Alive Mission: Bringing Hope to the Hopeless.