As the hot weather continues, Lethbridge also continues to answer the Mission's call for water!
Community comes together
Many individuals and businesses have delivered water or donations to the Mission in the last 10 days. Derek Campbell from Waste Connections of Canada brought in a big load of water (click on the photos for more info!):
Derek Campbell from Waste Connections of Canada brought in a big load of water.
Derek purchased all the water in stock at London Road Market and brought it to the Mission on Friday afternoon!
Another delivery with a great story arrived Friday morning from SaveOn Foods. Dean from Regina messaged to make sure we had received the delivery. We were curious to know how he heard about our call for water over in Saskatchewan. Dean replied:
I follow different sites on Facebook from Lethbridge as Taylor plays for the Hurricanes and saw a news article about the heat etc and need for water. SO I asked Taylor if we or he would like to donate some water and he said sure. He took it from there! It's the least we can do. He is treated very well in Lethbridge and just wanted to give back a bit. Dean Ross
Thank you so much, Dean & Taylor! We know you didn't do it for the mention, but we do love the Hurricanes here at the Mission, and we're very thankful for your donation!
Water & Heat In the NEWS
In addition to
CTV News coverage of the call for water
, Lethbridge News Now also shared the
heat and water story with a call for volunteers
.
Temperatures in the 30s have heightened the need to keep people without [permanent] homes cool and hydrated. "Because they have such limited access to find a water source, it's hard for them to even refill a water bottle," McLennan explained. "So, we try to make sure that we have full bottles of water that they can take with them. We try to give them a couple at a time if we can." Geoff Smith, Lethbridge News Now
Water Bottles of All Types
We also do make use of reusable water bottles whenever we can. As long as they are in good condition, and the type you would continue to use for yourself, we will be able to share them with our clients. One challenge faced by people who don't have permanent lodging is that they have nowhere to keep things. Keeping something, like a reusable bottle, for themselves can feel like a luxury they can't afford.  Even refilling a reusable bottle can be problematic as many businesses are not welcoming and public facilities are not as accessible as you might think. We do our best to encourage our clients to use reusable items whenever we can, as well as responsible litter disposal and recycling, but their circumstances often dictate fewer practical choices. At the end of the day, we need to help them to cool off and stay hydrated so they don't get heat stroke.  Providing a cool drink is also providing a bit of care and hope.
Higher Temps = More Water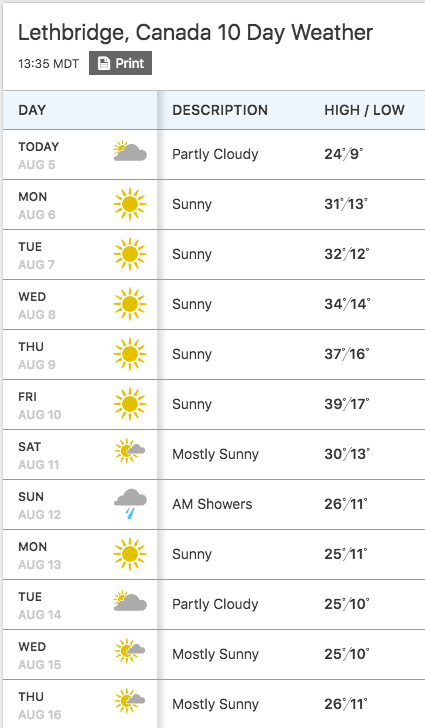 Last week we gave out about 14 flats of water each day. 14 flats x 24 bottles in each flat = 336 bottles of water! We expect that number to increase this week for 2 reasons: 1) higher temperatures
(up to 39ºC possible!)
, and 2) evening meal service resumes after a week off. We do have quite a stock from our generous supporters, and we will share with other agencies if we have too much water, as well. Donations of bottles of water, reusable bottles, and cash can be brought to the Mission during office hours:
9:30am-11:45am and 1:00-4:00pm 323 4th St. S. Downtown Lethbridge
If those times don't work for you, please call the office directly and we can make arrangements for other drop off times:  403-320-1159.
Unfortunately, our volunteer and staff base isn't large enough at this time to provide pickup service.
Every water bottle makes a difference. Thank you for helping in this very tangible way as we ride out this heat wave!