[vc_row][vc_column][vc_column_text]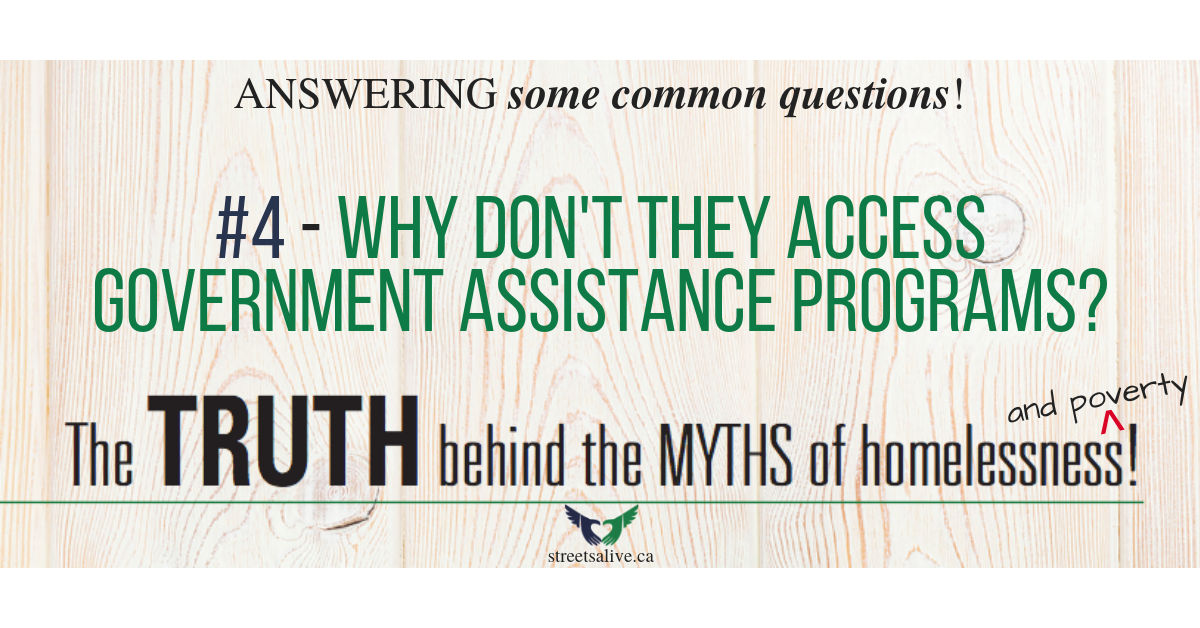 COMMON QUESTIONS / MYTHS SERIES #4
Question #4:  
Why don't they access government assistance programs? 
Unfortunately, it's not that simple. .
With services like social assistance and low income housing available, why aren't they being accessed more often by those in need?
The answer to this one is a bit multifaceted.
Often, just the paperwork involved in applying for those programs can be overwhelming.
Imagine yourself in a situation where you may not even have an 8th grade reading level (which is very common among our clients).
When you have little confidence in your reading and comprehension skills, even a simple form can be intimidating. Also, most forms will simply be tossed if the information is filled out incorrectly, so when a mistake is made the process must be repeated. This can be very discouraging.
It might even be simpler than that. Many of our clients don't have government-issued identification, a basic starting point to apply for any programs.
Some don't have an address, so there is no place to send a social assistance cheque.
Government services also often fail to address the root causes of poverty and homelessness, such as mental health, addiction, or family history.
Simply putting cash in the hands of those in need and a roof over their heads will not solve the problem.
So what will solve these complex issues?
We believe the redemptive power of the love of God goes a long way.
Time, patience, grace, mercy, compassion, hard work – these things also play a big part.
As to having one's basic needs filled, everything looks a little better with food in your stomach, and clean clothes on your body.
There is no easy answer to some of these questions, but while a definitive solution is being worked on, there are broken people who need help and hope.
Streets Alive Mission is committed to advocating for those in need, to helping clients walk through the complex processes of getting assistance, and to addressing the root causes of the issues.
Please help us give these all-important things – God's love, time, compassion, food, clothing – to as many people as we can.
See more Myths and Frequently Asked Questions.[/vc_column_text][/vc_column][/vc_row]