[vc_row][vc_column][vc_column_text]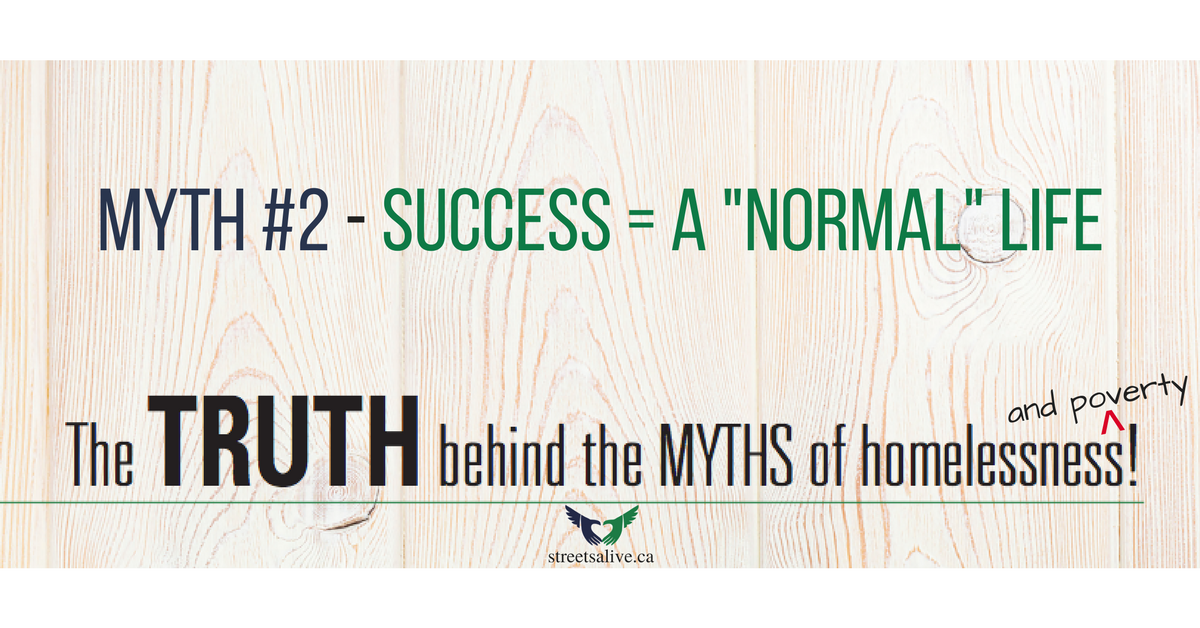 Common Questions / Myths Series #2
Myth #2:  
Successful work with poverty-stricken and / or street people will result in a "normal" life for them. 
The world has a very clear idea about what being a "success" is. It often involves money, a house, a job, a family, living a stereotypical happy and "normal" life.
As a result, a lot of people think that a homeless or deeply impoverished person achieving that kind of life equates to SUCCESS.
It's also true that many people assume that successful work with and for the impoverished and homeless should be measured by how close our clients get to society's "norm" as a result of our help.
At Streets Alive Mission, success is measured in different ways.
For some, 24 hours of sobriety is a success.
For some, getting their GED is a success.
For some, having a meal and appropriate clothing so they can survive another day is a success.
What might seem like a small success to most people is often a huge success for them. And even a small success for our clients is a huge success for us.
Every step is celebrated and encouraged.
At Streets Alive Mission, we see successes every day.
There are successes like that every day around the Mission. Yes, every day!
⇒ If you've been sober for 12 years and still don't relapse, each day is a success.
⇒ In Parkside Home and Segue Women's House, we see men and women who are taking steps to break out of their former lives and start down the path of new ones. It is not easy. But every day they are here is a success.
⇒ Our Boundaries course, offered through the A.S.K. Learning Centre, offers people with addictions important tools to protect themselves from poor influences, and break that cycle of addiction. Every class session completed is a success. Every tool learned is a success. Every healthy boundary put in place is a success.
Success looks different sometimes.
The work at Streets Alive Mission does aid some of our clients to be able to get on their feet, get out on their own, and live what one might call a "normal" life. That process of getting them to that point is a series of small steps and every day successes.
Some of our clients will never make it to society's normal.
That doesn't mean our work with them isn't successful. That also doesn't mean that these clients are not successful. It just means that their success will look different than most people's.
Success means something different to each of us individually, and everyone's successes deserve to be applauded, even if those successes do not look like you're own.
Streets Alive Mission is committed to helping every person who comes through the doors to find their own way to success. That journey may or may not lead to a "normal" life by society's standards, but it will lead to many successes, and it will bring hope.
See more Myths & Frequently Asked Questions.
[/vc_column_text][/vc_column][/vc_row]