For Immediate Release
Many Roads, One RIDE!
On October 4th, cyclists and casual bike riders of all ages and abilities in Lethbridge will be riding in the 11th Annual Ride for Refuge.
SEPTEMBER 15, 2014 – Lethbridge, AB – Events, Charity Fundraiser, Family Activities, Sports & Fitness
"Many Roads, One RIDE." The Ride for Refuge's slogan reflects both the many causes that are benefitted by the event, as well as the many different life stories behind those who participate in the family-friendly cycling fundraiser. Some ride because they have been affected by one of the RIDE's focus areas. Others ride because they have a great sense of compassion for those in need, or just because their friends, family or workplace is involved. No matter the reason, all roads meet together for the RIDE.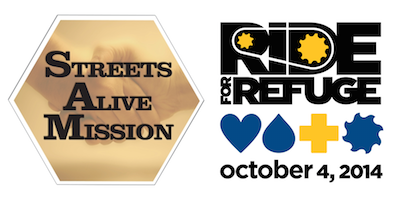 Taking place on October 4th, 2014 in 30 locations across Canada and the United States, the RIDE is gearing up for its 11th season. In Lethbridge, the Ride for Refuge is generously hosted and operated by Streets Alive Mission for the 3rd year, in support of charities benefitting the displaced, vulnerable and exploited.
Participants register online at www.rideforrefuge.org, in advance of the RIDE event day. There are prizes for riders who reach certain fundraising goals for their selected charity. The event makes for a fun Saturday afternoon bike ride with friends and family, all for a good cause.
"The 2014 RIDE may very well be the largest one yet, with our 200 partners recruiting over 6000 riders, while hopefully raising more than $2 million," said Executive Director of RIDE for Refuge, Brian Carney.

Quick Facts:
Riders select from standard 10km, 25km, or 50km routes, depending on their skill.
The Ride for Refuge begins with registration at 8:00am, and riders are released at 9:00am, with the event wrapping up by 2:30pm.
Lethbridge riders will get to peddle through the scenic Henderson Lake area.
The bike routes will be staffed by dedicated safety volunteers, with rest stops and refreshments along the way.
After the RIDE, all riders are treated to a celebration lunch to reward their hard work.
Riders can register individually or as teams.
The RIDE for Refuge is just that – a RIDE. It's not a race.
In 2013, riders collectively raised just over $1.6 million in the event.
Associated Links:
For more information, or to register to ride or volunteer, please refer to www.rideforrefuge.org.
Streets Alive Mission Location page (Ride for Refuge Lethbridge): http://rideforrefuge.org/location/lethbridge
Contact:
For specific information on the RIDE in Lethbridge, please contact local Event Director, Chuck LeBlanc [chuck@chuckleblanc.com], and for national inquiries, contact the RIDE Team at 1-877-743-3413, or by email at info@blueseaphilanthropy.org.