Shop and Share!
Streets Alive Mission is thrilled to announce our new, easy fundraiser that will generate automatic donations for us when you shop online.
And here's the best part:
IT WON'T COST YOU A SINGLE PENNY EXTRA!
That's right!  Now you can buy the same things you would normally buy anyway, at the same prices, from all the same retailers you know and love, and we'll automatically receive donations with each online purchase you make.
Streets Alive Mission is a Shop and Share registered non-profit organization!
Just register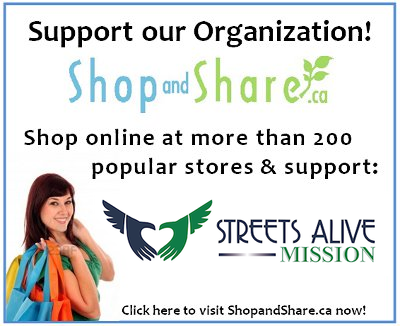 a free account on ShopandShare.ca, choose us as your favourite non-profit, then follow the links to your favourite retailers each time you shop online.
It's super easy and the donations can really add up quickly when everyone participates.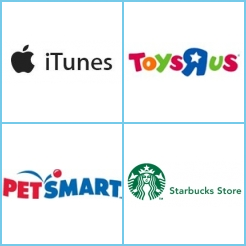 With over 200 retailers, like Old Navy, iTunes, ToysRUs, even Wal-Mart and Starbucks… you're sure to find a shop that features all the items you want and need.
The donation amounts vary between retailers, but each time your favourite non-profit (that would be US, Streets Alive Mission!) reaches a minimum $25 donation balance from purchases made by all their supporters, Shop and Share will send us a cheque.
This is a great way to help Streets Alive Mission without even having to spend anything extra! Shop like you normally would, and we'll receive some benefit from it. How easy is that?
If you're curious to know how this works, visit the Shop and Share "How it Works" page for full details.
Thank you for continuing to help us find creative ways to keep doing what we do. Register at Shop and Share today, and tell your friends about it, too!
Streets Alive Mission: Bringing Hope to the Hopeless!