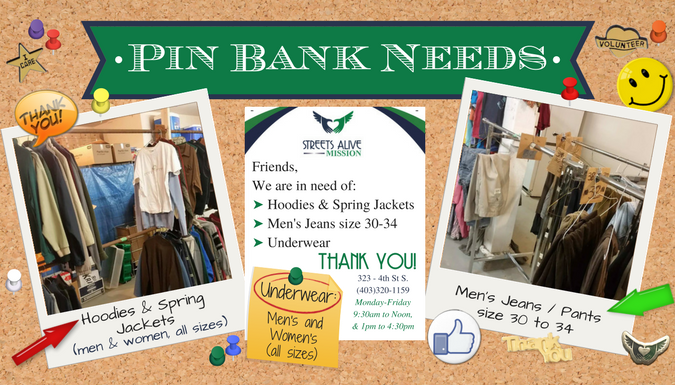 Empty Clothing Racks at the PIN Bank
Dear Friends,
These are photos of nearly empty clothing racks in our PIN Bank.
Spring Needs in the PIN Bank
It's springtime, and Lethbridge experiences a wide range of temperatures, meaning that our clients need layers of clothing to be comfortable in these varying conditions.
We are in need of some things for our PIN Bank:
➤  Hoodies & Spring Jackets (men & women, any sizes)
➤  Men's Jeans and Pants – size 30-34
➤  Underwear (men & women, any sizes)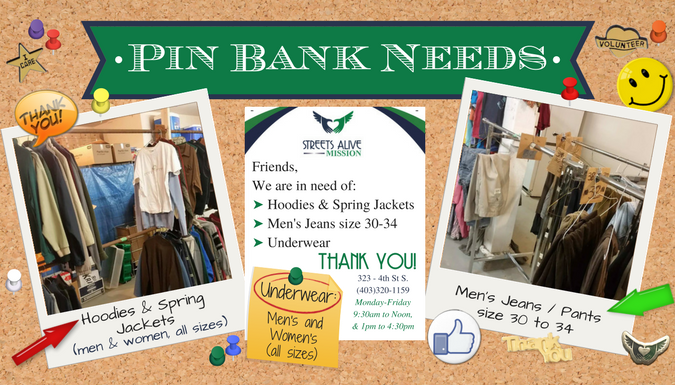 Unfortunately, many of our clients have no fixed address. This means that they have nowhere to store their extra clothing, and often lose coats, or have the jackets taken from them by others.
That means that we share a lot of these items in the PIN Bank at this time of year!
How to Help
We gratefully accept donations of clothing, shoes, bedding, small household items, etc., at our office. 323 – 4th St South, Lethbridge. Office hours are Monday to Friday, 9:30am to Noon, and 1pm to 4:30pm (closed for lunch from 12-1pm).
If those donation times don't work for you, phone our office and we can arrange another drop-off time. (403)320-1159
You can also donate financially toward the purchase of underwear or other needed items. Visit our Mission Market to select specific needs to support.
Thank you so much for your generosity. We can't say it enough! Every donation helps, and you really do make a difference!!
Streets Alive Mission – Bringing HOPE to the Hopeless!