Streets Alive Mission in Lethbridge has been hard at work serving the homeless through this already harsh winter season. We've given out jackets, coats, hoodies, jeans, shoes, and more toques and gloves than we can count. We celebrated Christmas Day with the Christmas Family Festival, sharing Hope with some of the less fortunate in Lethbridge.
Behind the scenes we have also been hard at work, updating the Streets Alive Mission website and our online donation system.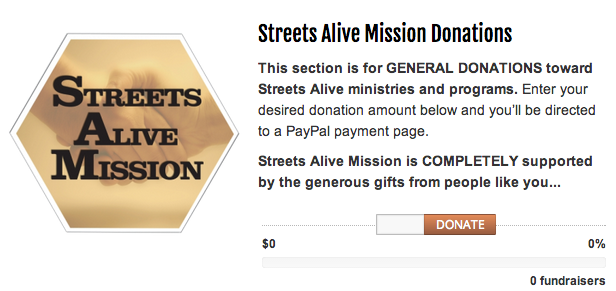 Streets Alive Mission is entirely funded by generous supporters. We're trying to ensure that we have the easiest possible ways for you to be able to donate to the ministries and programs of Streets Alive. To that end, we've updated our donations pages on the website, and we've streamlined the donation process.
And there is still time to get your donations in BEFORE the end of 2013, to be counted toward your annual tax deductions for charitable donations.
Please visit our Donate page and give it a try.
Once again, we thank you for your continued support of Streets Alive. We can't do what we do without you, and we are grateful for your partnership as we Bring Hope to the Hopeless!
.