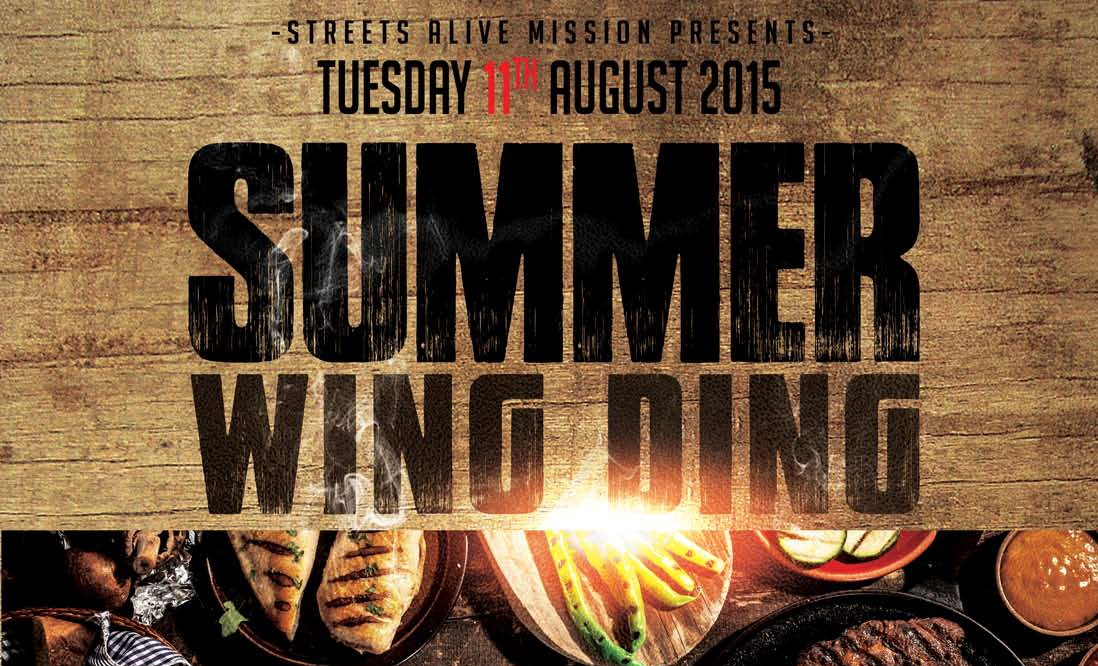 For Immediate Release
Lethbridge, AB, August 7, 2015 –  2015 marks 25 years in ministry for Streets Alive Mission, and one of the ways the organization will be celebrating this year is with the Summer Wing Ding event.  On Tuesday, August 11th, Streets Alive Mission will host the Summer Wing Ding at Enmax Centre.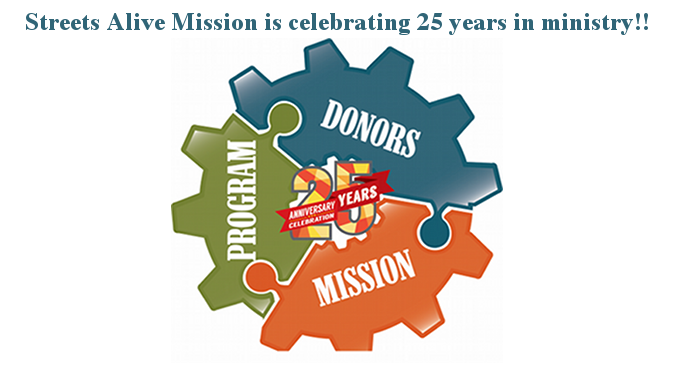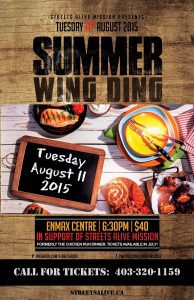 In addition to a lovely dinner with all the trimmings and dessert, the Summer Wing Ding will include an evening of entertainment, special presentations, and more.
Celebrating 25 Years of Bringing Hope – a look back
Greetings from Dignitaries
Presentations to Honoured Guests
Surprises and Special Announcements
Auction for EXCLUSIVE Streets Alive Jackets & Shirts
Marketplace Table
Wonkets Silent Auction
Fun happenings throughout the evening!
The event is a celebration, a dinner, FUN-draiser for Streets Alive, and a SUPER fun evening. It's definitely been a huge hit in years past (formerly the Chicken Run Dinner)!
"It's the most fun you can have on a Tuesday night!"  ~ quote from a past participant
Some extra tickets have become available late this week, and Streets Alive is extending an invitation to the community to join the organization in these celebrations.
Summer Wing Ding

Enmax Centre Lounge

Tuesday, August 11, 2015 at 6:30pm
Call 403-320-1159 to get tickets, or for more information!
Just $40 each, for dinner, and in support of Streets Alive Mission.
QUICK FACTS:
Streets Alive Mission began as the vision of 3 women back in 1989 to reach out to the impoverished and homeless people in Lethbridge.
Streets Alive Mission has seen 6 different locations and is now located at 323 4th Street South, in Downtown Lethbridge.
There are 13 different programs run by Streets Alive Mission, including a People In Need (PIN) Bank, a Mobile Meals Unit, and a Mobile Medical Unit.  All of these programs are provided for by generous donations of community supporters, and teams of committed volunteers. No government funding is used for Streets Alive Mission programs.
Streets Alive Mission serves over 100 people per day, on average, through their programs.
Last year alone, Streets Alive Mission provided 2,983 full sets of clothing to people in need, as well as 10,920 sandwiches for those living on the streets or in the shelter and low-income hotels around downtown Lethbridge.
For further information, contact:
Marie McLennan
Assoc. Dir. of Philanthropy
Phone: 403-320-1159
Email: marie@streetsalive.ca
Streets Alive Mission: 25 Years of Bringing Hope