THANK YOU!
By accepting The $25 for 25 Challenge you have joined with us in BRINGING HOPE to the spiritually and physically impoverished citizens of Lethbridge!
Streets Alive Mission offers support for the physical, emotional, social and spiritual needs of the poor to empower them to change their lives through the Gospel of Jesus Christ.
Currently, donors generously provide over 42% of the program delivery costs at the Mission, and YOU are a part of that!
YOUR Donation will help us bring God's love to over 2,900 individuals seeking unconditional love, knowledge, food, comfort, peace, and often safety!
Challenge Your Friends
You can also challenge your friends, family, and coworkers to accept the $25 for 25 Challenge.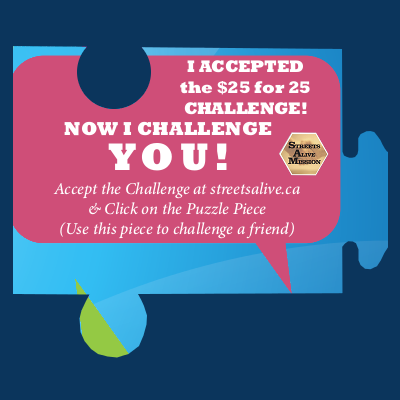 PUZZLE PIECE:  Share the actual puzzle piece from the Spring Newsletter insert.  Use that piece to give to a friend to challenge them to accept the challenge.
SOCIAL MEDIA / EMAIL:  Share this page on your Facebook, Twitter, LinkedIn, Pinterest, etc., or send an email, and encourage others to join us in celebrating 25 years of ministry with this challenge!  Also, LIKE, Comment on, and Share our Streets Alive Mission Facebook updates.  It helps us to spread the message even further.
You can also visit our I Accepted the Challenge page to download images that you can use on social media.
You Make a Difference!
Thank you again for your generous support of Streets Alive Mission.  We can't do what we do without you.  You do make a difference!
Streets Alive Mission: Bringing Hope to the Hopeless!