Everything – yes, everything, even a $100 prize from winning an arm wrestling contest – everything we have, or have ever received, is a gift. Some people realize that more than others.
When a person has very little, sometimes that makes it easy to see gifts for what they really are… and share them with others.
Can't view this video here? Visit Homeless Guys Arm Wrestle for Money on YouTube.
Not everybody is a fan of the Model Pranksters, or of experiments like this one.  But we can all be a fan of the winner of the homeless arm wrestling match!
He won, "fair and square"! He could have walked away with it all.
Instead, he shared the prize (the gift he was given). In spite of having very little himself, he still showed care and concern for another person.
Not only that, the winner didn't even know the other guy. They were strangers. He helped a stranger.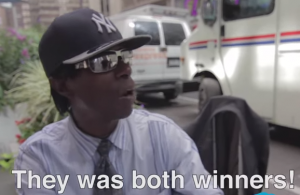 Because of all that, they were both winners!
Isn't it like that, though?
When we share what we have, there's more to go around for others. When we show care for others, we're all winners! When there's less need and more care, the world wins!
Here in Lethbridge, we hope that nobody will be pitting homeless guys against one another to arm wrestle for $100. There are easier ways to help, and better ways to create winners, winners who show care for others and share their gifts.
Streets Alive Mission serves the homeless, impoverished, and disenfranchised citizens of Lethbridge and area. As we help those in need, by sharing resources and providing care in a number of ways, we are seeing lives changed. By the grace of God, and through the love of Christ, people who viewed themselves as "losers" are now living as winners.
We are able to do what we do only because of the generous support of our partners, and donors like you. And we can't say THANK YOU enough!!
When you share your gifts and show your care, we all win.
Streets Alive Mission: Bringing Hope to the Hopeless!
Donate to Streets Alive Mission