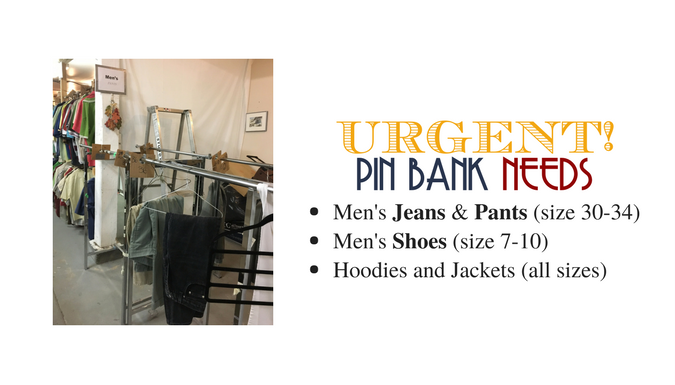 We are in desperate need of Men's Clothing
for the P.I.N. Bank.
What is needed?
The most urgent need is for the following men's clothing:
➤  Men's jeans and pants – size 30-34 especially
➤  Men's shoes – sizes 7-10 especially
➤  Hoodies & spring jackets (any sizes)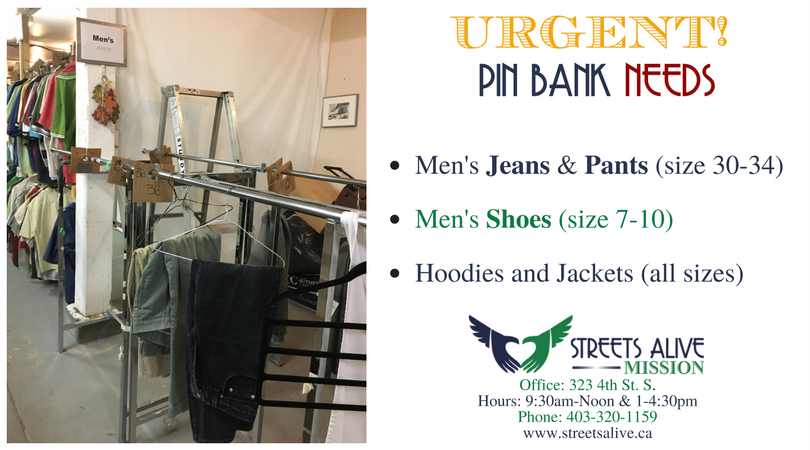 What is the PIN Bank?
People living on the street have no place to keep a second set of clothes or a place to do laundry. The P.I.N. (People In Need) Bank acts as a closet for these people. The P.I.N. Bank is the workhorse of the Mission. Acting as the closet for the street population, it provides, free of charge, the things that people require for basic survival, employment, or setting up a new household. The result is that once a week (more often in bad weather) they are able to come and get clean clothes in exchange for the clothes they are wearing. Those clothes are laundered and re-enter the bank.
Currently, the Mission is not able to launder and replace the men's clothes. There is simply nothing on the shelves to exchange. On Friday, the PIN Bank had to turn 38 men away as they had no replacement clothes for them.
Why is the need so high now?
Pastor Julie Kissick, co-founder of Streets Alive Mission, says,
"In all the years we've served in Lethbridge, I've never seen it like this. It's not for a lack of donations, as the community is very generous. But the need is so great right now. We can't keep men's clothes on hand. Everything we get is going out immediately."
Unfortunately, many clients of the Mission have no fixed address. Whereas during the winter months they may have had friends and family members take them in out of the cold, when temperatures rise those accommodations are less permanent and more tenuous. More people are roughing it.  This means that they have nowhere to store extra clothing, and they often lose coats, or have the jackets taken from them by others.
This is one of the reasons continuous donations are needed.
How can people help?
Streets Alive Mission gratefully accept donations of clothing, shoes, new underwear, etc. at the downtown office, 323 4th St South, Lethbridge. Office hours are Monday to Friday, 9:30am to Noon, and 1pm to 4:30pm (closed for lunch from 12-1pm). Alternatively, people are able to phone the office on (403) 320-1159 and another drop-off time can be arranged.
Women's items can also be donated. By far the greatest need, however, is for men's clothing.
Financial donations are also welcome toward the purchase of underwear or other needed items. Donate online, and look at the Mission Market to select specific needs to support.
Your support is greatly appreciated. The need is very real, and every donation makes a difference! Thank you for your generosity!