[vc_row][vc_column][vc_column_text]

Common Questions / Myths Series #1
One question is probably asked about our clients at Streets Alive Mission more than any other question:
Why don't they just get a job?
Imagine this:
Growing up, your parents never owned an alarm clock. You didn't watch them get up every day and go to a 'regular' job, because they didn't. They didn't bring home a regular paycheque which they then used to budget out rent, groceries, clothing, etc.

The reason that your parents never did that is because their parents never did that, either.

There's a reasonable chance that you didn't finish high school or even junior high, following the same pattern of your parents and grandparents.

You've never been taught a work ethic or job skills. Even your basic social skills may lag behind. You have no idea how to put together a resume, not that it matters as you have nothing to put on it.

You don't own any clothing appropriate to going to job interviews because you can't afford new clothing.

Now, go get a job.
Getting a job in this economy is a struggle for people who have university degrees, much less someone who's never been taught the basics of a firm handshake and looking potential employers in the eye.
Streets Alive Mission has programs that are being used to change that.
In the Work Force program, clients are taught how to fill out timesheets, how to work under a foreman, how to be punctual on a daily basis.
The A.S.K. Learning Centre has a GED (High School Equivalency) program that is taught weekly by a certified teacher.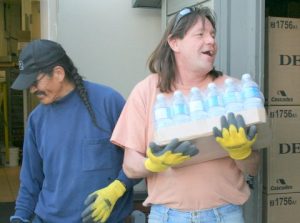 This is a long process. It can involve multiple obstacles, including mental health disorders, addiction, and generational patterns.
Streets Alive Mission is committed to walking every person that comes through the doors through their own individual journey, wherever it goes and however long it takes. That journey may or may not lead to jobs and financial stability, but hopefully it will lead to healing and hope.
See more Myths and Frequently Asked Questions.[/vc_column_text][/vc_column][/vc_row]