You are invited to Wing Ding 2018 and the NEW Recovery Challenge!
Join us for a fantastic evening of food, friends, and fun, complete with dinner, dessert, auction, games, and lively entertainment. Tuesday, July 17th is our annual summer fundraiser – The Wing Ding – and it's all in support of Streets Alive Mission.
Quick note: The Summer Wing Ding usually sells out, and tickets must be bought in advance. Get your Wing Ding tickets before they're all gone!
This year at the Wing Ding, there will be a new way to contribute to the life-recovery services, offered at no-charge, for the people served at the Mission: The Recovery Challenge!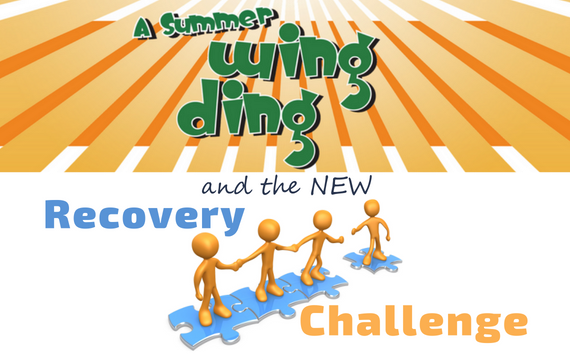 What is the 'Recovery Challenge'?
The Recovery Challenge is an easy way for you, as an individual or on behalf of your businesses, to provide Mission staff and volunteers with vital resources to walk the Road to Recovery alongside those in need.
With the Challenge, you can 'purchase' undergarments, meals, counselling hours, trusteeship mentoring, and "recovery core" support.
How does the Recovery Challenge work?
The Recovery Challenge features a new format for charity auctions, providing LIVE and MOBILE bidding!!
Participate NOW, and live at the event, by texting 'STREETS' to 587-800-4221, click on the link texted back to you, and follow the instructions.

Instructions available online, too: www.streetsalive.ca/recoverychallenge2018.
Bids close Tuesday July 17th. Follow the Streets Alive Mission Facebook page on the night to see an updated leaderboard!
Can't make it to the Wing Ding? No problem!
Pastor Ken wants people to know that you can help support the life-recovery work at the Mission by attending the Wing Ding dinner, and in other ways, too.
'Wing Ding is about raising funds for our core basic programs that assist us in building relationships, so that we can help people reach the "Road to Recovery". Recovery is real, and these programs are essential to helping people achieve recovery. We are excited about our "Recovery Challenge" that is available even to those who can't attend."

~ Pastor Ken Kissick, Streets Alive Mission co-Founder.
That's right – even if you can't make it to the Wing Ding, you can still participate in the Recovery Challenge via your mobile phone or online right away, with the same instructions as above.
Wing Ding & Recovery Challenge – Summer Essentials!
The funds raised through the Summer Wing Ding will benefit our clients in a time of the year when most people take a break. Folks might be in the holiday mindset, but poverty doesn't take a vacation, so neither do we.
Now, with your help through the Recovery Challenge, we'll be able to help more people as life gets back to 'normal' in the fall!
We look forward to seeing you for dinner on Tuesday, July 17th,
and we hope you'll seriously consider contributing through the Recovery Challenge, as well!
Recovery Challenge Instructions
Go Directly to the Recovery Challenge
Streets Alive Mission: Bringing Hope to the Hopeless, for 28 years and counting.